IECEx Approved Right Angle Torches
---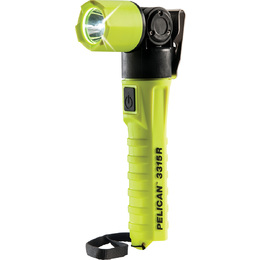 Up to 34 Hrs - LED - Max 132 Lumens
The 3315R-RA (Right Angle) fits comfortably in your hand and requires little space for storage or transport. The 3315R produces up to 132 lumens and provides up to 34 hours of continuous run time. 3 modes are provided, High / Low / Flashing....
Read More
SKU: 3315R-RA
$252.00
1 In Stock
Up to 15 Hrs - LED - Max 336 Lumens
The Class I II III Division 1, IECEx certifications provide the security needed for most hazardous locations. The 3415 is equipped with both a spot and flood LED for close-up as well as distance. Run on one or both LEDs with 3 levels. Magnetic Clip....
Read More
SKU: 3415M
$59.95
1 In Stock
Up to 31 Hrs - LED - Max 233 Lumens
Pelican leads the way yet again with its new right angle light. Featuring downcast LEDs for illuminating your path, the new 3715PL LED light also features 233 lumens (high) and 113 lumens (low), and a signalling mode. Glowing lens shroud....
Read More
SKU: 3715PL
$179.95
2 In Stock