Memory C'd
Holds SD / SD Mini & Micro Memory Cards
Stores up to 12 x SD cards, 6 x Mini SD cards and 6 x SD Micro Cards simultaneously Made from tough poly-carbonate resin. Water resistant seal....
Read More
Brand: Pelican
SKU: 915
Now $40.46
ON SALE
10% OFF
RRP $44.95
10+ available

Usually ships in 2-3 days.
2 READY - *1 Hour Quick Dispatch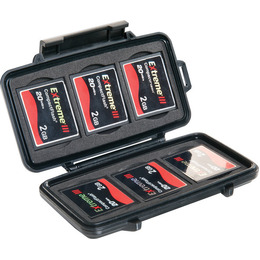 Holds 6 x Compact Flash Memory Cards
Stores up to 6 x Compact Flash Cards Made from tough polycarbonate resin with water resistant seal....
Read More
Brand: Pelican
SKU: 945
Now $40.46
ON SALE
10% OFF
RRP $44.95
10+ available

Usually ships in 2-3 days.
1 READY - *1 Hour Quick Dispatch