Pelican 1095 Case - Inc Foam
Fits 15" Laptops
Dimensions:
External: 43.6 x 33.6 x 6.6 cm
Internal: 38.6 x 26.9 x 4.5 cm (Max Laptop)
Shipping Calculator:
We provide a fully traceable and secure service with Team Global Express (Formally Toll) and with Australia Post for smaller items.
30-Day Satisfaction Guarantee
100% Australian Owned
Description
Fits notebook computers up to Width 38.6cm (15") x Depth 26.9cm (10.6") x Height 4.5cm (1.8")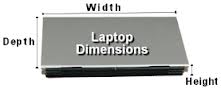 ​Pelican Laptop Case Model Hardback 1095. Fits up to 15" laptops. (measured from top right to bottom left of screen). This case will even hold A4 Papers. Its has a Pressure Valve at the front, Very Durable, Solid coloured case with Pick,N,Pluck Foam included. It is also supplied with a carry shoulder strap for ease of use. Interior Dimensions 40.1 x 28.3 x 5.2 cm (38.6cm x 26.9cm x 4.5cm usable space), External Dimensions 43.6 x 33.6 x 6.6cm. Internal Lid Depth 2.6 cm, Internal Case Depth 2.6 cm. Weight is 1.32kg. Constructed from a very tough Poly-carbonate
Warranty
PELICAN LIMITED LIFETIME GUARANTEE OF EXCELLENCE
Pelican Products, Inc. (Pelican) guarantees its injection molded products for a lifetime against breakage or defects in workmanship. Pelican injection molded cases are guaranteed to be watertight to a depth of 3.3 feet (1 meter) for 30 minutes (IP 67) if properly closed with undamaged o-ring in place unless otherwise stated. To the extent permitted by law, Pelican's liability is limited to the case and not its contents or foam.
Features
Fits notebook computers up to

Width 38.6cm (15") x Depth 26.9cm (10.6") x Height 4.5cm (1.8")

Designed to protect 15" laptops
Watertight Gasket - Tight seal created when case is shut
The easy open latch remains shut under pressure or after impact
Automatic Purge Valve - Keeps water and dust out while balancing air pressure
Pick N Pluck with convoluted lid foam
Removable shoulder strap included
Lifetime Guarantee of Excellence
Watertight, crush-proof, and dust proof
Specifications
| | |
| --- | --- |
| SKU | 1095 |
| Model # | 1090-020-110 |
| External Dimensions | 43.6 x 33.6 x 6.6 cm |
| Internal Dimensions | 38.6 x 26.9 x 4.5 cm (Max Laptop) |
| Internal Lid Depth | 2.6cm |
| Internal Bottom Depth | 2.6cm |
| Product Weight | 1.32 kg |
| Temperature Range | (-23c) (49c) |
| Warranty Info | Lifetime Guarantee of Excellence |
| Made In | United States |
Reviews
Be The First To Review This Product!
Help other Carry It Cases users shop smarter by writing reviews for products you have purchased.